15 January 2016 KAUNAS
At the beginning of year, the patent attorneys of Kaunas have on several occasions invited the members of the Association of Lithuanian Patent Attorneys to discuss the performance of the previous year and exchange their ideas about work next year.
This time we met in Kaunas on 15 January. Our meeting started with the cultural program.
In 2015, the buildings of modern architecture built in Kaunas (the temporary capital) in the 20th century, during the interwar period (1919-1940), were awarded the European Heritage Label. The most outstanding buildings are marked with this label and a flag as symbol of this label flies at the building of the Municipality. We took a stroll down Putvinskio Street and saw some buildings awarded with this label.
We also visited one of the most mysterious buildings of that period, i.e. the historic palace of the Bank of Lithuania. The guide showed us the operations room, the premises of individual safes in the vault safeguarded by an impressive door locked with three different keys, the conference hall on the second floor with an original conference table and high chairs with backrests bearing the bank symbols "LB". There is a small money history museum on this floor. We could see how different currencies of Lithuania looked like. Through the gallery of the second floor the walls of which are decorated with paintings of famous artists of Lithuania we got into the third floor. An apartment for the Prime Minister was equipped there when building the bank. This is an office and 8 residential rooms for guests. The visitors may see over the office and guest rooms with the preserved original furniture of that time. The Prime Minister Voldemaras lived in this apartment. Our excursion ended in the library of the bank.
We continued our discussions in one of the most recently opened restaurants in Kaunas Centre Višta Puode enjoying different dishes.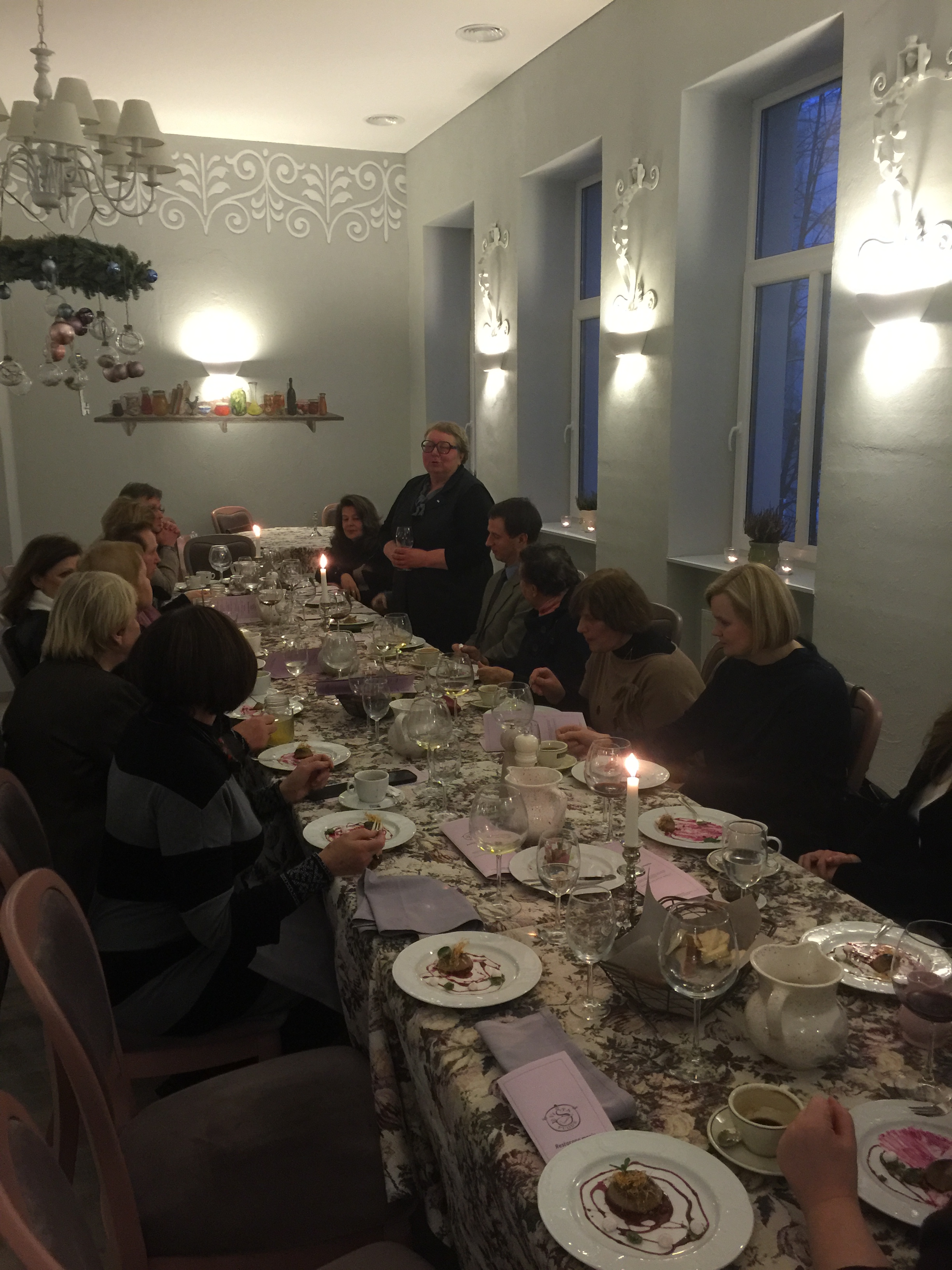 Secretary of the Presidium of
the Association of Lithuanian Patent Attorneys Nijolė Viktorija Mickevičienė